18/12/22 08:32
For immediate Release: Monday, December 19
th
, 2022
Award winning brass band Apollo Suns invade Canmore for a special pre-New Years Eve Party! With Canmore/Calgary openers Delirium Street Party Brass.
Calgary, AB
– Canmore, AB is about to get a double shot of brass, jazz, funk and ska music on
Thursday, December 29
th
at the
Canmore Legion!
Celebrating the upcoming holiday season, Winnipeg based, 2-time Western Canadian Music Awards 'Instrumental Artist of the Year' winning ensemble
Apollo Suns
bring their incredible energy and unique mix of psychedelic jazz rock to Canmore for the first time on
Thursday, December 29
th
,
with local riot/brass band
Delirium Street Party Brass
opening up the festivities.
Apollo Suns
are a band with incredible live performance experience and a fearless drive that has led to them creating a deep connection with the hearts of music fans all over Canada. A band that has toured Canada numerous times and has topped the Earshot! National radio charts, they are one of the more engaging live groups in the country and are guaranteed to throw a party in every town they hit.
Delirium Street Party Brass
was formed in Calgary in 2012 and was initially inspired by the evolving 'riot jazz' brass bands (ie: The Soul Rebels, The Dirty Dozen Brass Band, The Youngblood Brass Band) of the U.S. The band has artfully pushed the brass band genre further into ska, punk, jazz and party rock, focusing on high-energy music along with deep musicianship, tons of brass and percussion and strong female vocals.
This special double bill will feature a combined ensemble of 15 musicians rocking the legendary Canmore Legion hall in a pre-New Year's Eve concert that is tailor-made for locals, legion-regulars, ski staff and tourists!
APOLLO SUNS WITH DELIRIUM STREET PARTY BRASS
THURSDAY, DECEMBER 29
TH
, 2022 DOORS: 7:00 PM DELIRIUM STREET PARTY BRASS: 8:00 PM APOLLO SUNS: 9:00 PM
COVER: $20.00! LOCATION: ROYAL CANADIAN LEGION BRANCH – THREE SISTERS – 834 7
TH
STREET, CANMORE, AB
Tickets:
EventBrite.ca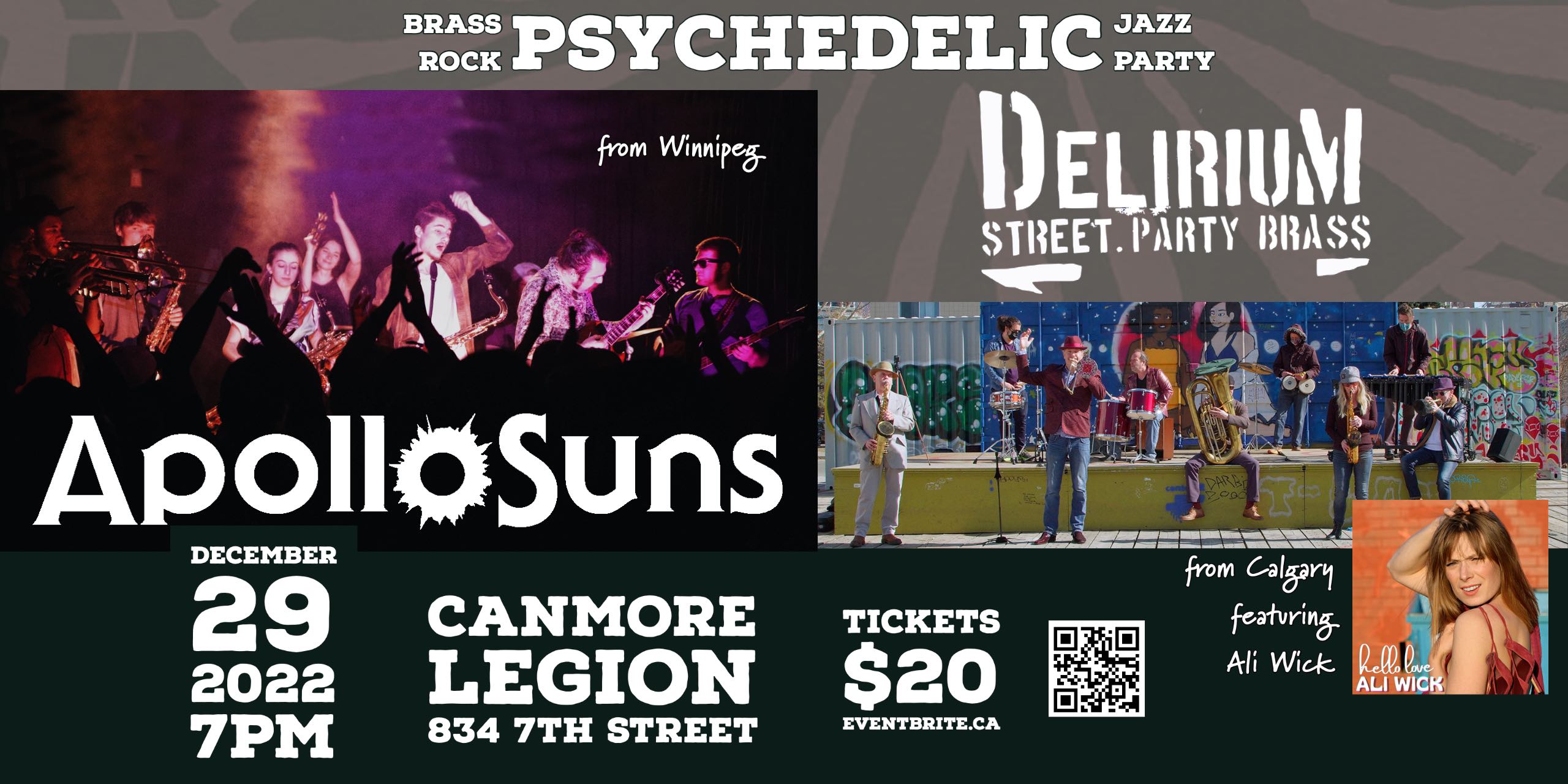 17/07/22 22:09
August 6th we are thrilled to host
My Son The Hurricane
at the
Ironwood Stage And Grill
.
My Son The Hurricane is a multi horn, multi drummer, multi singer brass-funk beast. From Niagara, Ontario, the 12-piece brass-dance crew has toured over multiple countries as well as some of the largest festivals in Canada, USA and Europe. 40 sold out shows in 2019 and early 2020 just proves that there is no live show comparable to "My Son The Hurricane". Featuring trumpets, saxophones, trombones, drums, guitar, percussion and two wild front-people, we dare you not to dance!
Of course we in Delirium Street Party Brass will not be outdone by our buddies from Niagara! We have our own surprises in store. Come see us? Phone the venue at (403)269-5581 to secure your seat!.
Show Details
.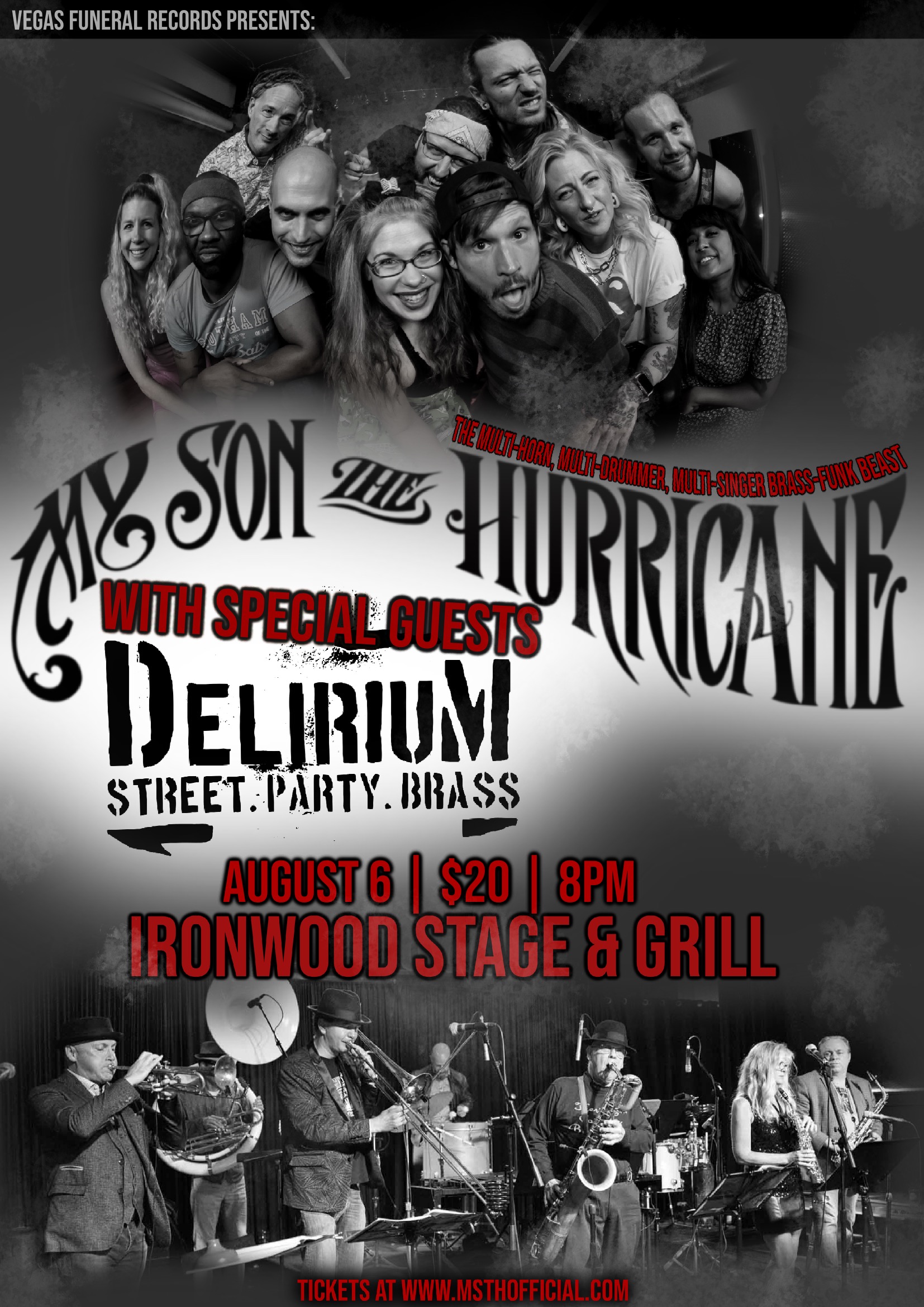 28/07/21 22:06
We're proud to be showing off Alberta's finest New Era Brass Bands on August 8th at
Ironwood
. Welcome
The Brass Tactics
from Edmonton, and
Little Brown Jug Brass
from Calgary. Dance your (br)ass off!
7PM
$25
Our first indoor show of 2021!