17/04/21 21:43
The pandemic is coming to an end! We know what you want! You want outdoor party music so you can celebrate safely.
We are thrilled to give you a sneak peak of the post pandemic stimulus version of Delirium Street Party Brass. Musicians have been among the hardest hit occupations during this pandemic, you can support live music, have a great outdoor party, and have Alberta's finest horn players and percussionists come to your party.
Alberta's plan:
Late May: up to 100 people outdoors
Late June: up to 500 people outdoors
Get your (tentative) bookings in ASAP.
Contact us!
Sign up to our
mailing list
for sneak peaks at upcoming video and audio.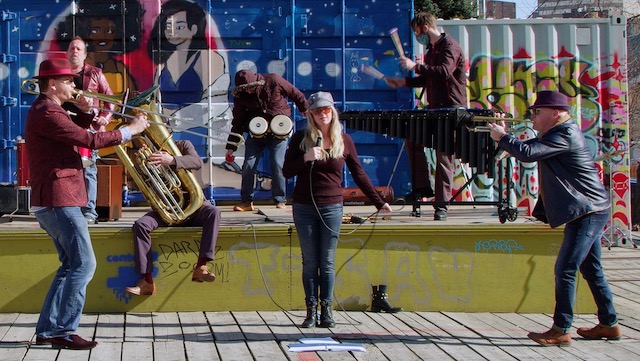 10/10/20 09:16
Today is both World Mental Health Day and the release day for our 2-track CD. If you add the songs to a playlist on Spotify, we'll donate an extra dollar* to mental illness awareness charities. Please share! Please email it to friends who aren't active on Social Media!
Spotify URL
https://open.spotify.com/album/0DrL3vOOFiDwOWKz2A1OF1?si=UE1KcDZ3RN68Ehlq_bFNzg
Not on
Spotify
? Buy it on
Bandcamp
or iTunes, or stream it on
Apple Music
. If your favourite music service isn't listed on the
release page
, please search for it in their app and
email us the link
! You can also
send us money
to add to our own donation. (We are also donating streaming revenue, but remember we get less than a penny each time you stream a track on the big music services.)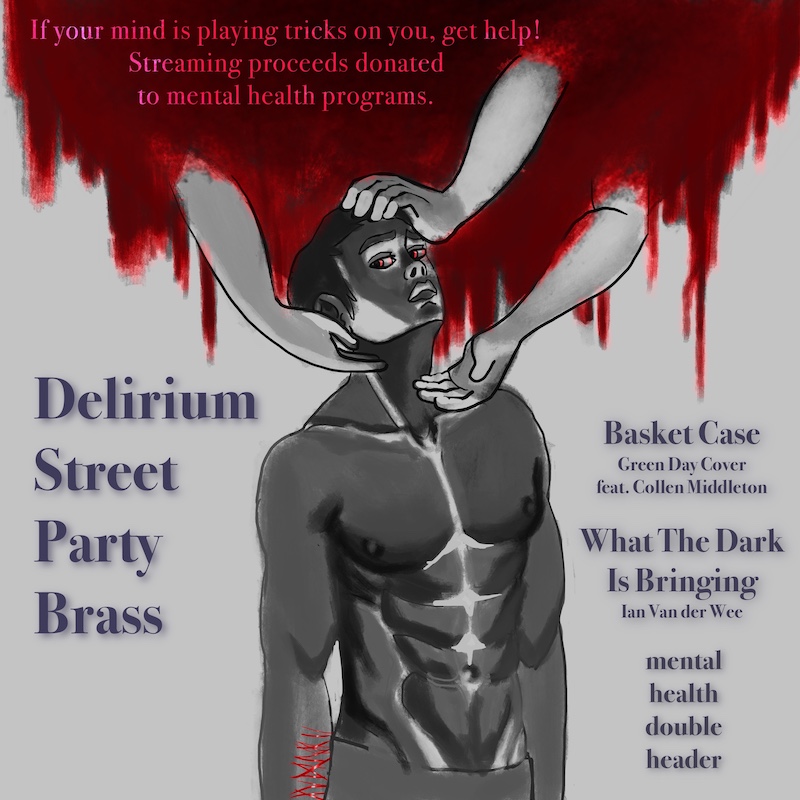 * maximim $200
09/10/20 13:04
For each pre-save to a Spotify Playlist John is donating an extra dollar to
SuicideInfo.ca
. Open the link in Spotify and pre-save it to a playlist! Tell your friends.
Apple Music Store link is also live.
Or, pre-order on BandCamp and set your own donation:
02/10/20 16:52
For Release
October 2, 2020

Delirium Street Party Brass releases "Mental Health Double Header"
Two brass-rock songs raising awareness will be available on World Mental Health Day, October 10, 2020

Calgary — October 2, 2020 —Delirium Street Party Brass releases "Mental Health Double Header", available on all platforms on World Mental Health Day, October 10, 2020. The band is a unique concept horn-focused rock band, formed in 2012, using drums, trombones, trumpets, tuba, saxophones and even flutes to deliver a full energetic sound that is at-home on rock and pop stations and playlists.
Basket Case
"Basket Case" is a cover of Green Day's iconic single, sung by Collen Middleton of Bent Roads Tavern. "I was leading The Raw Punk Green Day Tribute Project in 2019, 'Bleeds Green', and we shared a stage with Delirium Street Party Brass a few times" says Collen. "I wanted to collaborate as soon as I heard them — their instrumentation is so rare and they sound fantastic, breathing street brass life into pop music." "Billie Joe Armstrong of Green Day wrote the song about struggles with anxiety, before he was diagnosed with panic disorder" says John Abraham, band leader, recording engineer, producer and trombone player.
What The Dark Is Bringing
Composer and vocalist Ian Van der Wee says "I wrote 'What The Dark Is Bringing' about an episode I had with suicidal thoughts. What I went through at the time was extremely scary, and sharing that fear and imagery through song has helped me cope. I want people to be moved by the song, but I also hope other people going through a similar episode might recognize some elements and understand that they can get through it and emerge safely on the other side."
Cover Art
Artist Klrissa Wright drew the cover art for the album. "I wanted to show the notion that our head and our thoughts are not always under our control", she says. "Everyone sees something a little different in Klrissa's art" says Abraham, "it seems to act as a mirror to one's own experience."
Musicians
In addition to Collen Middleton and Ian Van Der Wee on vocals, the musicians consist of some of Calgary's best:

John Edward Abraham, Producer, Engineer, Trombone

Ron Murias — Drums

Sean Devitt — Saxophone

Dana Kaukinen — Saxophone, Alto Flute

Kevin Waites — Trumpet

John Towell — Trombone

Jevon Hills — Tuba

Maria Kornell — Flute

Scott Sproxton — Saxophone

Jace Laing — Background vocals
Donations of Streaming Revenue

The band has decided to donate revenue from streaming platforms and purchases of this album to mental health awareness charities such as the Centre for Suicide Prevention
suicideinfo.ca
in Alberta and the BC Schizophrenia Society
bcss.org
. Listeners are encouraged to donate to local mental health awareness charities in their area.
Availability

Public links will be listed at
https://deliriumstreetpartybrass.hearnow.com
, including an already live pre-purchase link at
Bandcamp.com
and a
donation link
.

###

(note: private download links are available in advance to press, including a Radio Edit version of What The Dark Is Bringing. Contact us for the links or to schedule interviews.)
24/09/20 22:44
Our "Mental Health Double Header" is available for pre-purchase on
Bandcamp
in advance of its release on World Mental Health Day October 10th.
Basket Case
(Green Day Cover) is about Panic Disorder
What The Dark Is Bringing
is about Suicidal Thoughts.
They rock!!!
Mental health conditions hit all demographics and careers, but musicians write songs about them. Don't trust your mind, it can play tricks on you. Enjoy these rockers written by Billie Joe Armstrong and Ian Van der Wee about their own personal experiences. But, if they sound too familiar, get help! Bandcamp revenue will be donated to mental health awareness.
John E. Abraham — Production, Mixing, Engineering, Trombone
Collen Middleton — Vocals, Mastering, Guitar
Ian Edmond Van der Wee — Songwriting, Vocals
Run Murias — Drums
Sean Devitt — Saxophone
Dana Kaukinen — Saxophone, Alto Flute
Kevin Waites — Trumpet
John Towell — Trombone
Jevon Hills — Tuba
Maria Kornell — Flute
Scott Sproxton — Saxophone
Jace Laing — Background vocals
08/09/20 22:06
Coming on World Mental Health Day, October 10th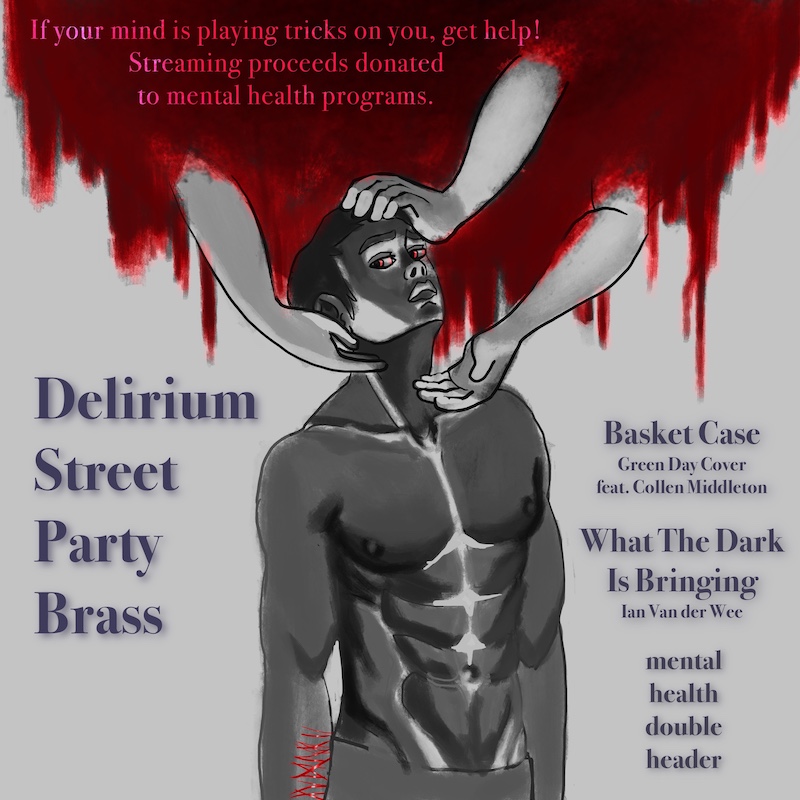 29/11/19 12:15
Tonight November 29 in Edmonton we are playing with the Brass Tactics Sticks And Stones at the Starlite Room in Edmonton. And, our EP "I Stay Out Too Late" is available on most platforms including Apple Music and Spotify. So excited!
Buy or stream our music, then come see the show. We'll have download cards for $5 at the show if you want to own your own mp3s and support the band.
Tickets
($10 in advance, $20 at the door)
Choose your favourite music retail/streaming service below.
iTunes
Spotify
CD Baby
Youtube Music
Google Play Music
Amazon Music
Deezer
Tidal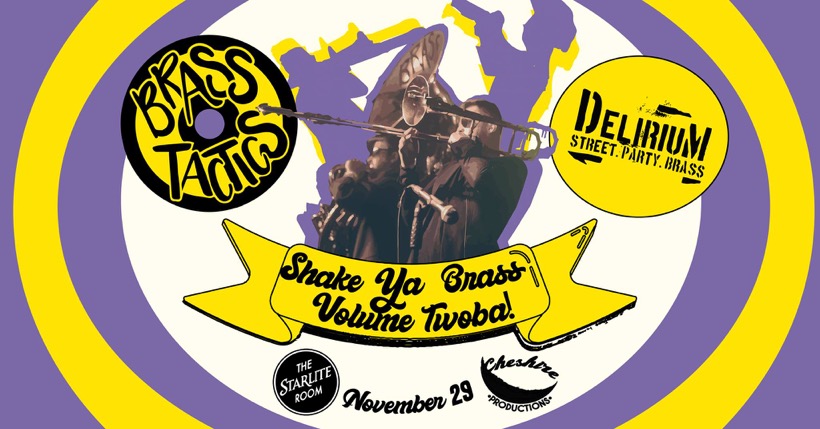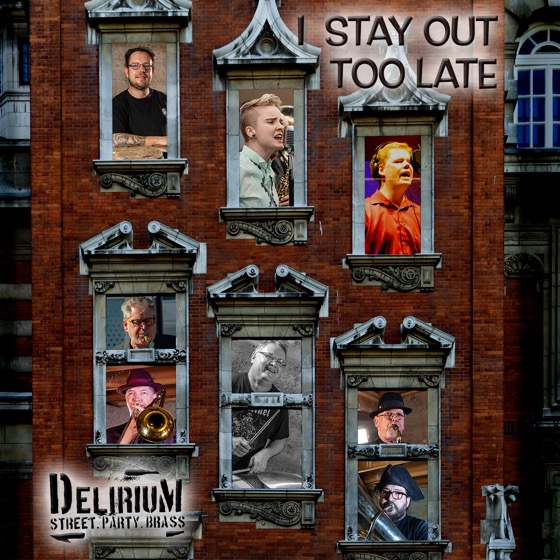 17/11/19 11:07
The EP "I Stay Out Too Late" drops in online stores and streaming platforms on November 29th. The same day as our
show in Edmonton
. Preorder on
Bandcamp
. Watch for it on
iTunes
and
Spotify
.
Show tickets for Edmonton are available
.
We are so excited!
11/11/19 16:59
We are thrilled to be playing The Starlite Room in Edmonton hosted by the amazing The Brass Tactics! Come to Edmonton with us. Edmontonians, come see us! Support party brass in Alberta! November 29, 2019.
Details on
Facebook
on on
The Starlite Room's page
.