04/11/23 20:19
Check out Big Yellow Taxi on Tuesday wherever you get your music! Listen your favourite music platform.



For Immediate Release:


DELIRIUM STREET PARTY BRASS CELEBRATES
JONI MITCHELL'S 80TH WITH BRASS BAND ARRANGEMENT OF "BIG YELLOW TAXI"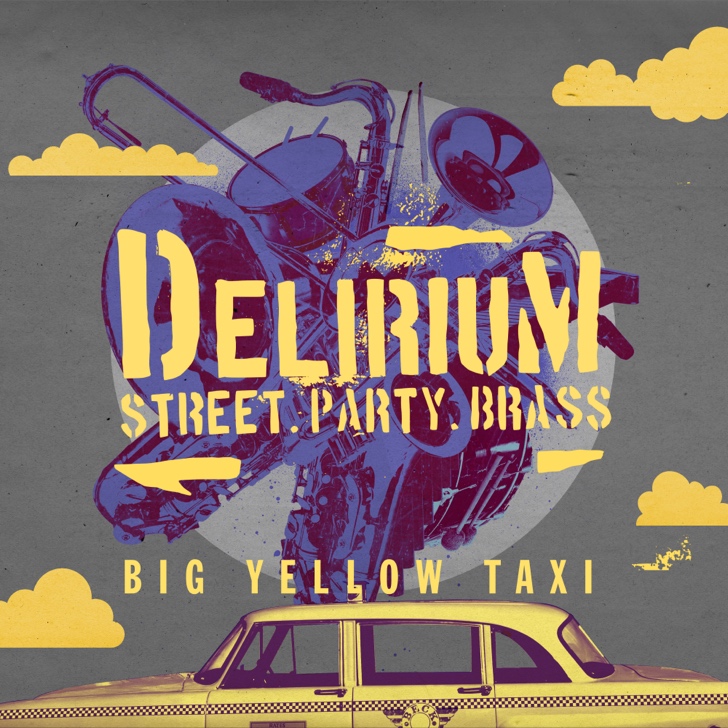 06 NOVEMBER 2023 (Calgary, AB) – Delirium Street Party Brass, Calgary's #1 brass and percussion ensemble, has released their new single for "Big Yellow Taxi" off of their upcoming debut EP The Alberta Sessions.
"Big Yellow Taxi" is the second single from the EP, which will be released on Tuesday, November 7th - the same day as the legendary singer/songwriter and icon Joni Mitchell's 80th birthday. "We are so lucky to be able to have this band of a dozen of Calgary's greatest musicians, and to celebrate the greatest genius to ever come out of Alberta on her 80th birthday is a major honour", said co-Producer Scott Morin.
Although widely discussed as being from Saskatchewan, Joni Mitchell was born in Fort Macleod, AB on November 7th, 1943. Her storied history as one of the great poets, songwriters, painters, vocalists and guitarists is widely celebrated, and this composition is perhaps her best known in an unbelievable catalogue of classic songs. "Big Yellow Taxi" is known for its environmental concern and is the #9 song on CBC's list of 'Top 50 Essential Canadian tracks.'
The arrangement of the song by Calgarian bassist Jeremy Coates, vocal performance from local singer Ali Wick, and production by band leader John Abraham and 3-Time Juno Winner Scott Morin was a true labour of love, that took place at OCL Studios in Chestermere, AB. The opportunity to record this song in the prairies, where Joni grew up, added to the inspiration behind the recording.
Delirium Street Party Brass is a unique ensemble of jazz, funk, soul and pop musicians who are driven to bring a new take on the classic New Orleans brass band sound. Featuring three generations of musicians led by a dynamic and diverse young vocalist, the band represents a refreshing take that is focussed on bringing the brass band esthetic to a wide audience.
"Big Yellow Taxi" is the follow up to DSPB's debut single, an arrangement of Kiesza's hit "Hideaway", and is the second single from their debut EP "The Alberta Sessions" which will be released in April 2024. The EP features new arrangements in the brass band tradition of songs by Joni Mitchell, Kiesza, Feist, Ali Wick, Jocelyn Alice, and Tegan and Sara. All singles will be released over the next 6 months, followed by a Western Canadian tour from the group.
For more information, interviews, and single/video adds and premieres:
Scott Morin – Mascot Music – scottmorin@me.com or 403-690-4747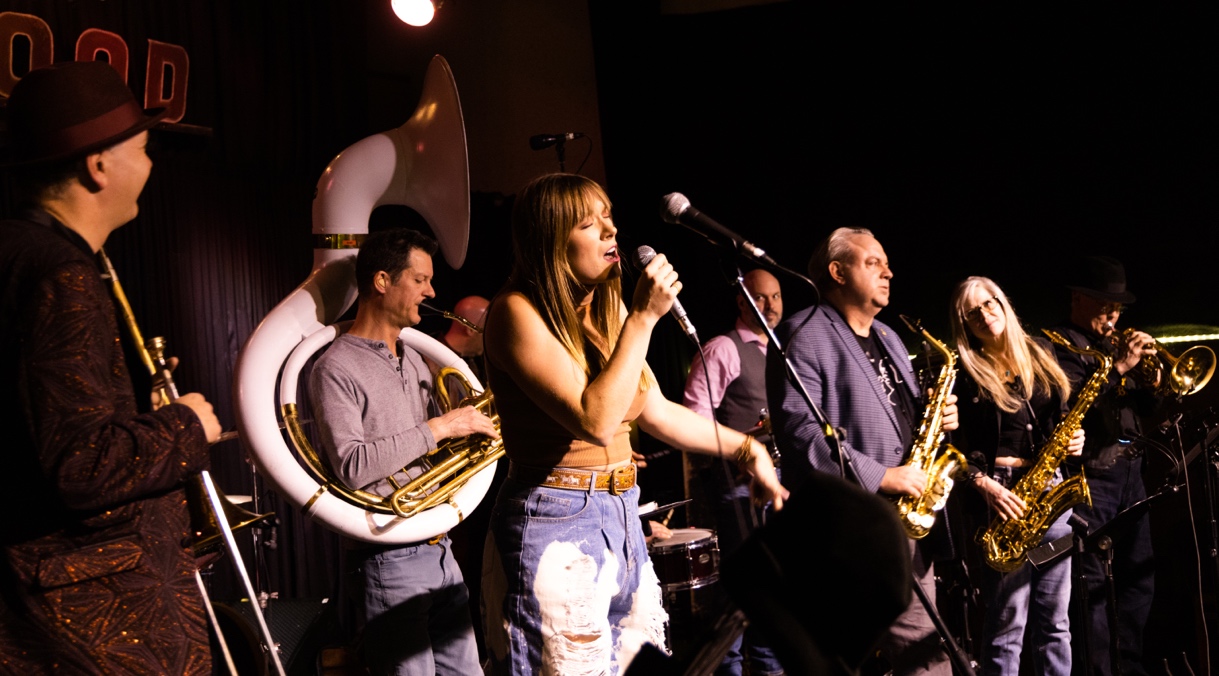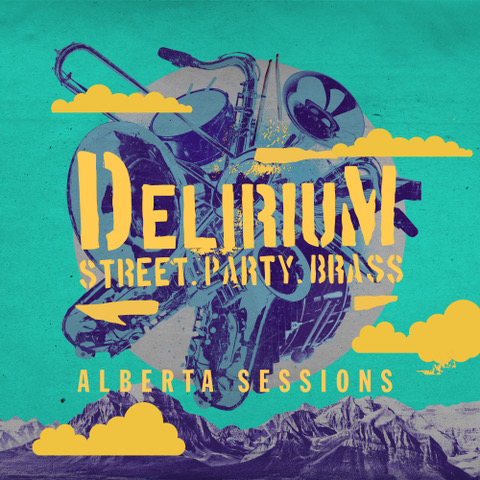 https://www.deliriumspb.com/ https://www.instagram.com/deliriumspb/
https://www.facebook.com/DeliriumSPB
-30-


This is the second release off of our upcoming Alberta Sessions EP.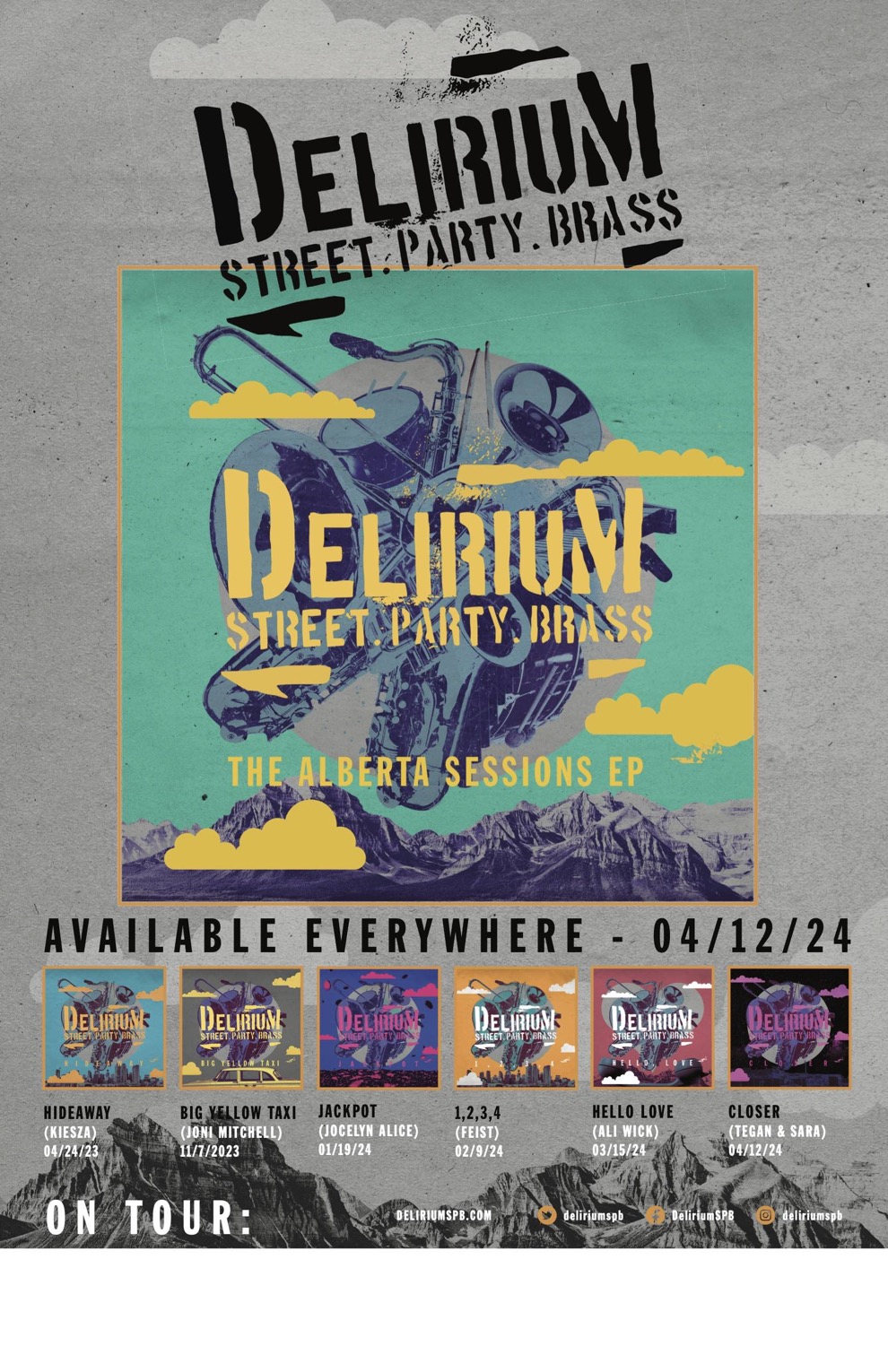 15/09/23 18:07
Come to Inglewood on Sunday for the pedestrian street celebration. We're performing in front of Spolumbo's at 2PM and 3PM. We're playing songs from our upcoming "The Alberta Sessions EP" in a true "street band" format. We are also leading a procession New Orlean's style to celebrate and honour musicians lost in 2023, including Marvin Kee, Ian Tyson, Stacie Lynn Roper, Dan McKinnon, Andy Sparacino and Dean Clarke. Bring your instrument or your voice as we'll be handing out some sheet music so you can join us.

We love street party brass music, we love NOLA-style music, and we loved so many of these recently departed musicians. It's going to be great to honour them in a celebration of music and their lives. And, we'll be honouring living Alberta female songwriters too, with some of our other songs.

The street party is from 11:30 AM to 5:00PM.

But, stay after! Our friends
The Brass Tactics
are playing Ironwood in the evening!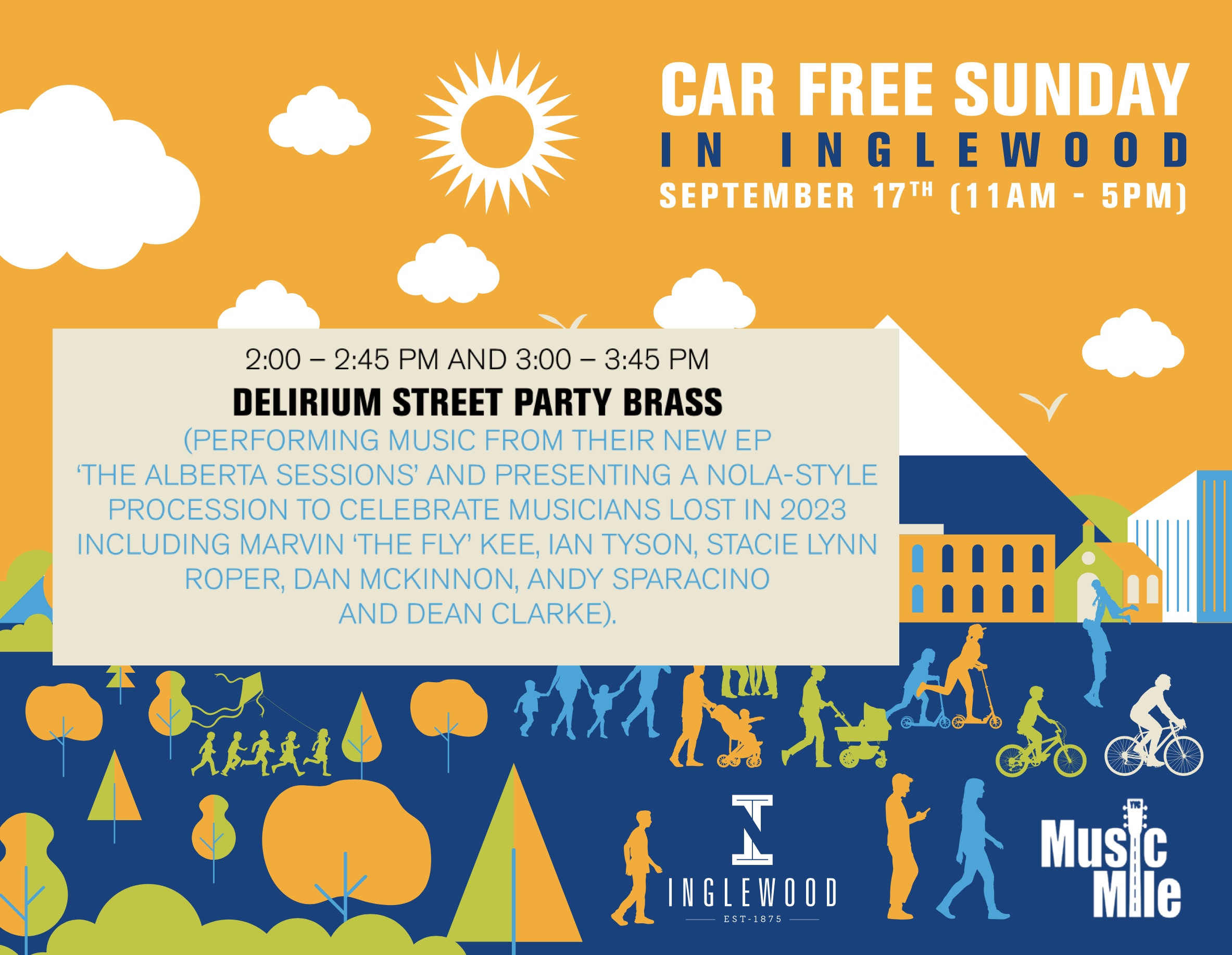 PS
Someone
tagged the Brass Tactic's show with "Alberta's Best Brass Band". Ha Ha. Maybe there will be a throw-down like back in the days of Kid Ory and Buddy Bolden! Someone's trying to fire up a rivalry? We won't have it, unless it's one of those fun rivalries like the one with your little brother who you secretly love.
29/08/23 19:34
Pride Party at Coldgarden on September 2nd!

We're thrilled to be playing this Saturday at
Cold Garden
for Pride! Sponsored by the University of Calgary Alumni Association, with Nada Nuff as the host, and drag stars DogiiChow, Shane Onyou, and Tana Nuff performing.

Word is we'll be opening the party at 1PM, and then playing around 4 PM, but that could change. The party is from 1PM to 5PM! Details
here
.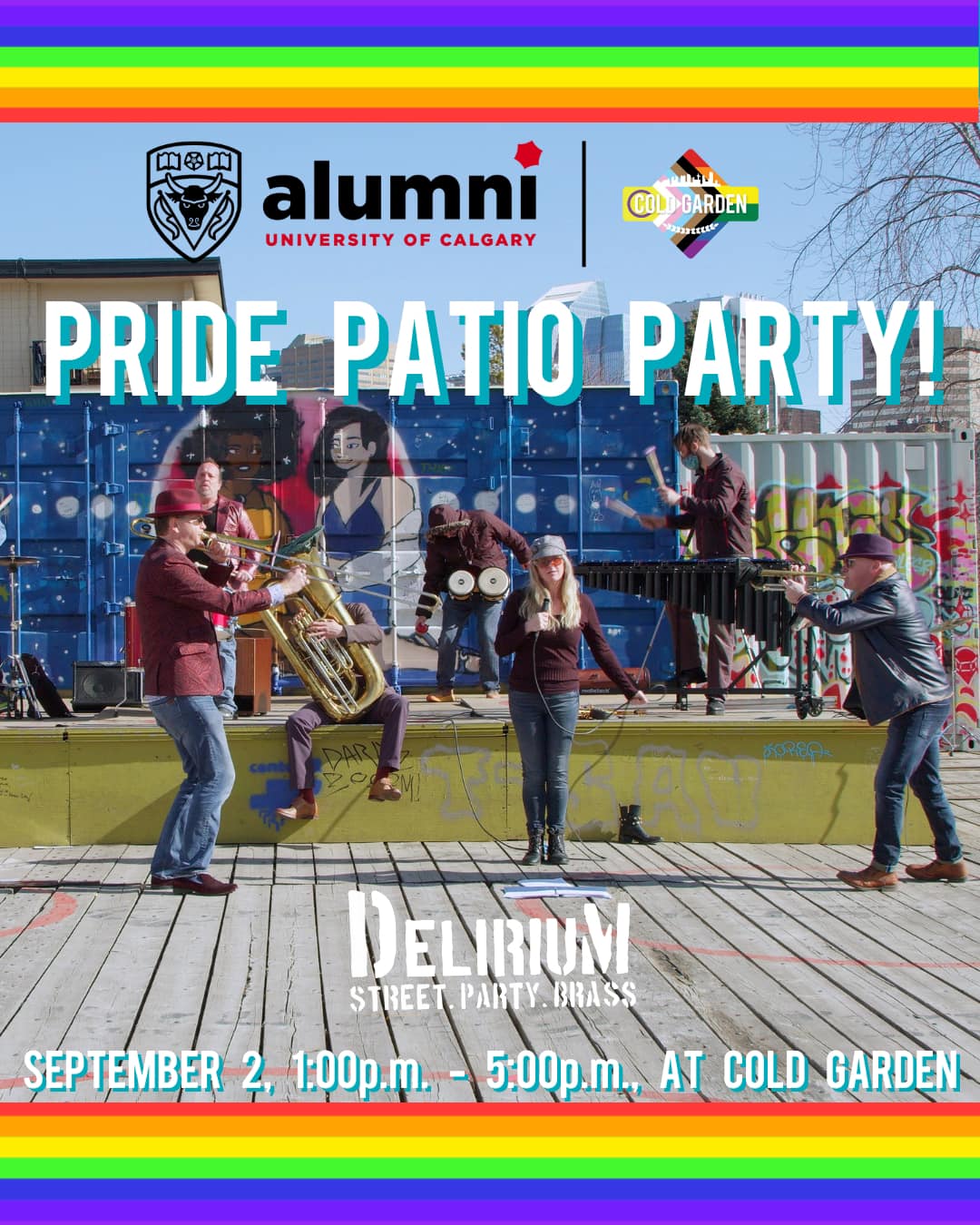 We've got a great selection of songs for y'all. We just got out of the studio to finalize our new EP, so we're
pumped!!!
18/02/23 13:09
We're having a double-single release party by Delirium Street Party Brass with special guests
l'Omelette
. Delirium releases their "
Hideaway
" single, the first of their "Alberta Sessions" song project with Modern Brass Band interpretations of female Alberta Songwriters. We love the
original by Kiesza!
Eclectic art rock outfit L'omlette releases their single "Cool".

These two bands are reinventing modern music. L'omelette has proudly evaded description since their inception in 2017, blending music and visuals with vibrant, heady beats. Delirium Street Party Brass has been pushing the "modern brass" nascent genre, focusing on blending jazz interpretations from New Orleans street bands while making modern pop beats better with percussion and horns.

At
Ironwood Stage & Grill
on the Music Mile in Calgary.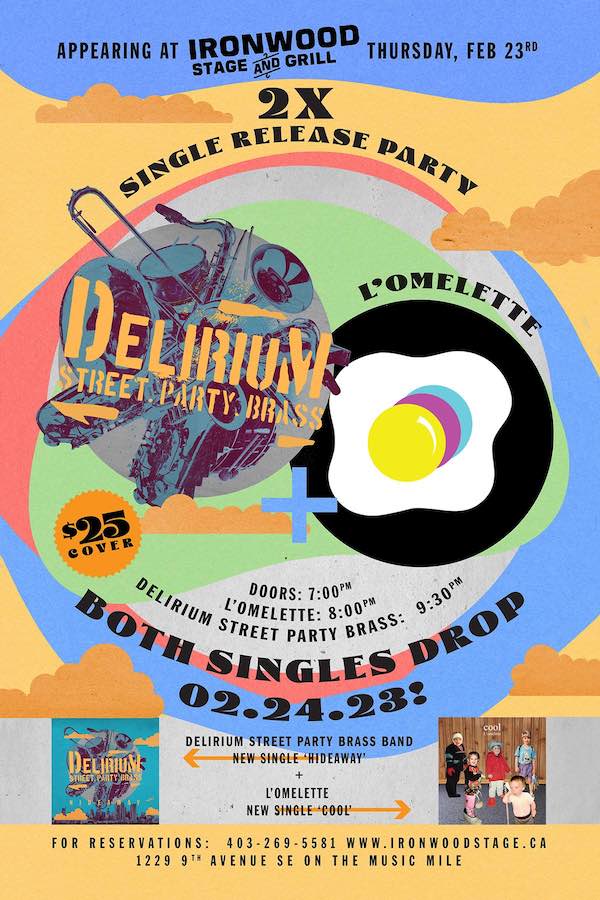 10/02/23 21:46
We're going to be releasing our single Hideaway at a party at The Ironwood on February 23rd. Hold the date!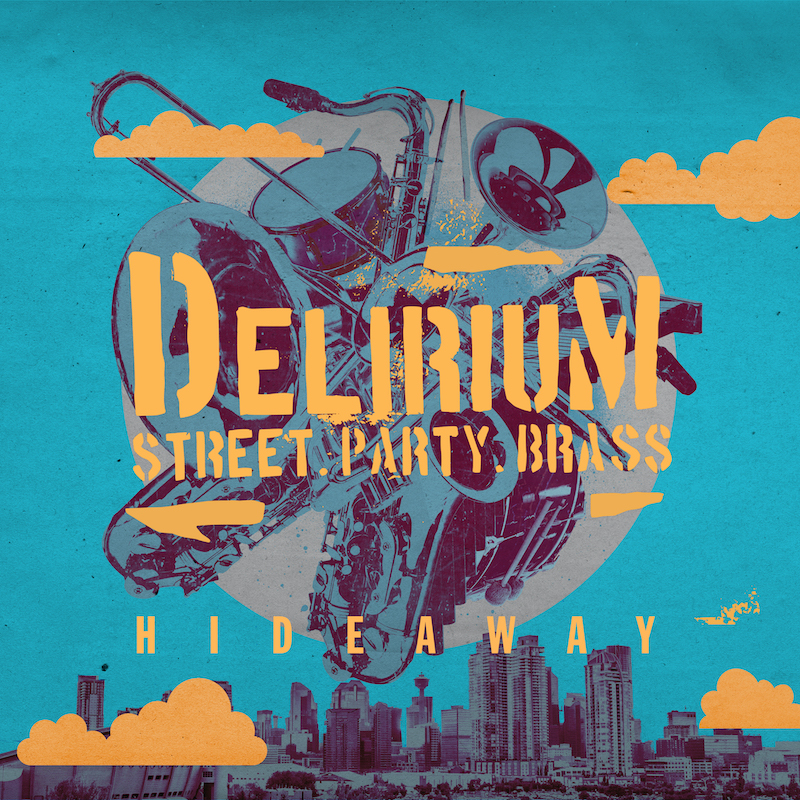 18/12/22 08:32
For immediate Release: Monday, December 19
th
, 2022
Award winning brass band Apollo Suns invade Canmore for a special pre-New Years Eve Party! With Canmore/Calgary openers Delirium Street Party Brass.
Calgary, AB – Canmore, AB is about to get a double shot of brass, jazz, funk and ska music on Thursday, December 29
th
at the Canmore Legion!
Celebrating the upcoming holiday season, Winnipeg based, 2-time Western Canadian Music Awards 'Instrumental Artist of the Year' winning ensemble
Apollo Suns
bring their incredible energy and unique mix of psychedelic jazz rock to Canmore for the first time on Thursday, December 29
th
, with local riot/brass band Delirium Street Party Brass opening up the festivities.
Apollo Suns are a band with incredible live performance experience and a fearless drive that has led to them creating a deep connection with the hearts of music fans all over Canada. A band that has toured Canada numerous times and has topped the Earshot! National radio charts, they are one of the more engaging live groups in the country and are guaranteed to throw a party in every town they hit.
Delirium Street Party Brass
was formed in Calgary in 2012 and was initially inspired by the evolving 'riot jazz' brass bands (ie: The Soul Rebels, The Dirty Dozen Brass Band, The Youngblood Brass Band) of the U.S. The band has artfully pushed the brass band genre further into ska, punk, jazz and party rock, focusing on high-energy music along with deep musicianship, tons of brass and percussion and strong female vocals.
This special double bill will feature a combined ensemble of 15 musicians rocking the legendary Canmore Legion hall in a pre-New Year's Eve concert that is tailor-made for locals, legion-regulars, ski staff and tourists!
APOLLO SUNS WITH DELIRIUM STREET PARTY BRASS
THURSDAY, DECEMBER 29
TH
, 2022 DOORS: 7:00 PM DELIRIUM STREET PARTY BRASS: 8:00 PM APOLLO SUNS: 9:00 PM
COVER: $20.00! LOCATION: ROYAL CANADIAN LEGION BRANCH – THREE SISTERS – 834 7
TH
STREET, CANMORE, AB
Tickets:
EventBrite.ca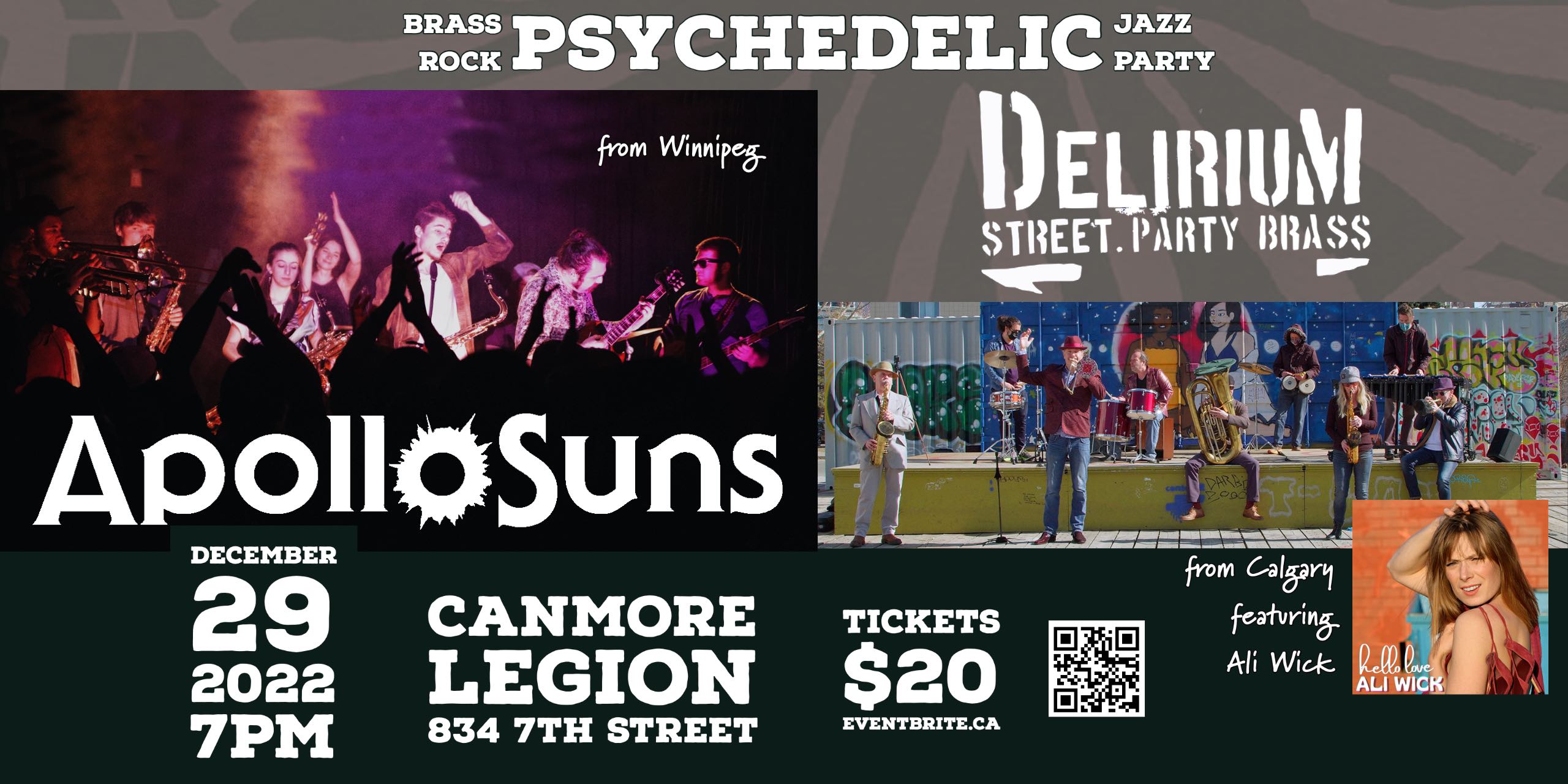 26/07/22 14:42
Come see us in August! For a patio party, and for our fans in Southern Alberta, we're at
High River Brewing
at 6PM on August 5th. The very next day we're with
My Son The Hurricane
at
Ironwood
. August 6th. See the
shows
tab for up-to-date info.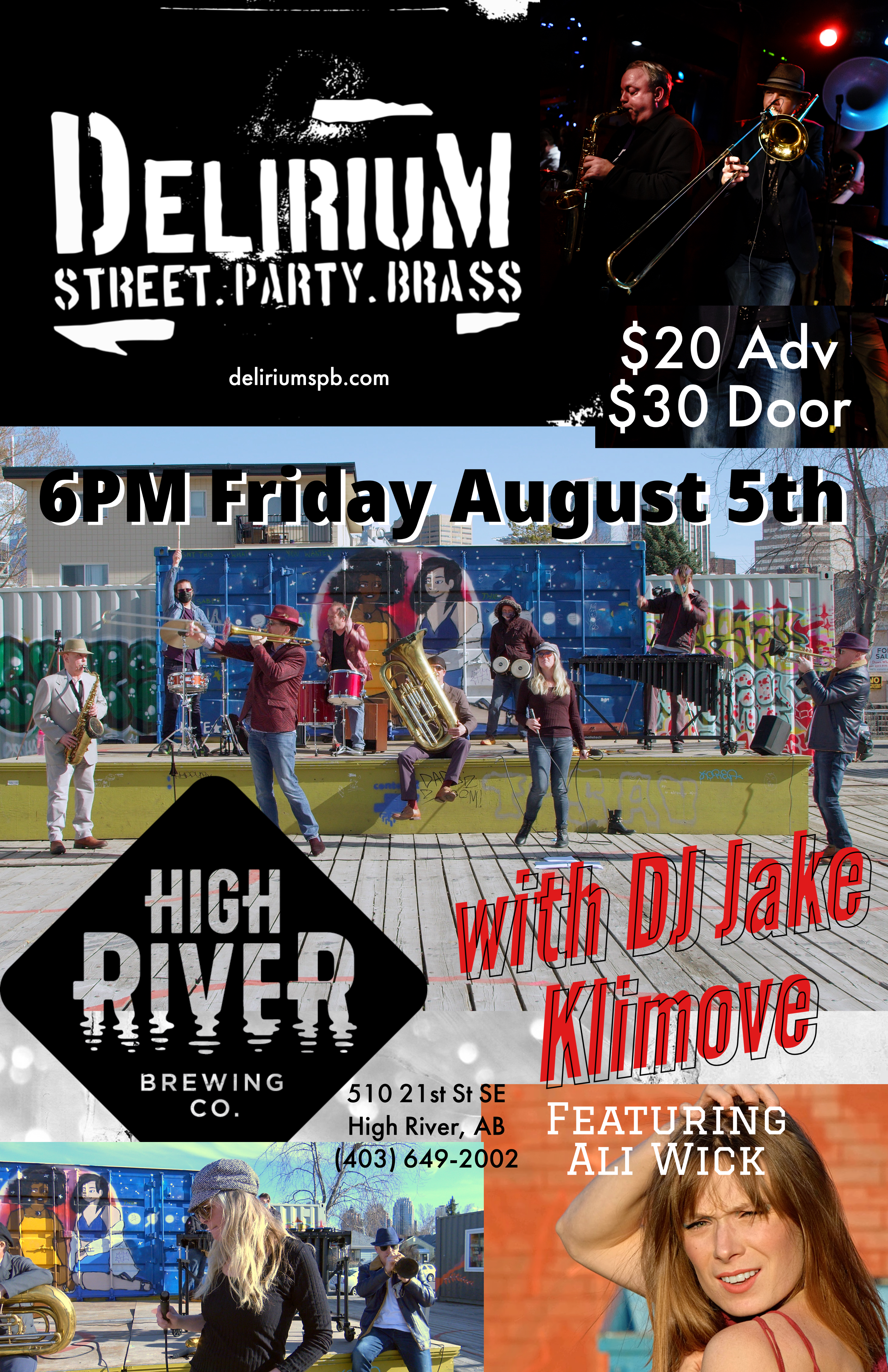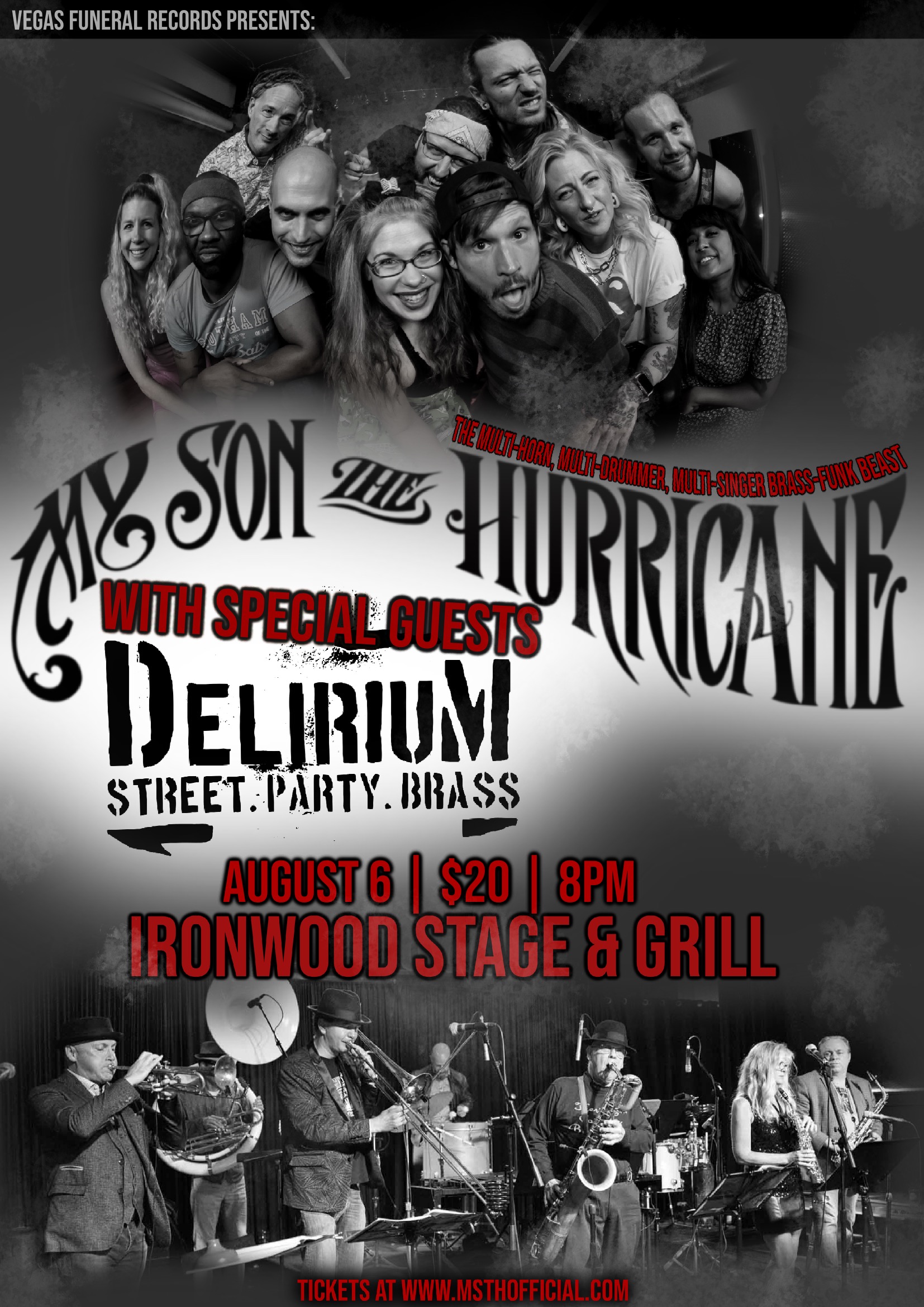 17/07/22 23:06
On August 5th we're making a road trip to High River!
High River Brew Company
is having us for the Patio Concert Series. Come join us! We have a very special surprise for you.
Show starts at 6PM. Check our
Shows
page for details and tickets.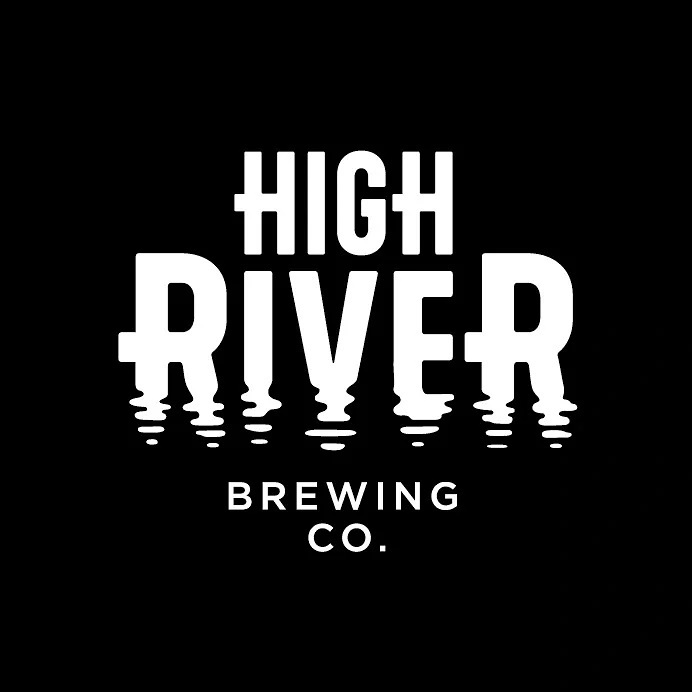 17/07/22 22:09
August 6th we are thrilled to host
My Son The Hurricane
at the
Ironwood Stage And Grill
.
My Son The Hurricane is a multi horn, multi drummer, multi singer brass-funk beast. From Niagara, Ontario, the 12-piece brass-dance crew has toured over multiple countries as well as some of the largest festivals in Canada, USA and Europe. 40 sold out shows in 2019 and early 2020 just proves that there is no live show comparable to "My Son The Hurricane". Featuring trumpets, saxophones, trombones, drums, guitar, percussion and two wild front-people, we dare you not to dance!
Of course we in Delirium Street Party Brass will not be outdone by our buddies from Niagara! We have our own surprises in store. Come see us? Phone the venue at (403)269-5581 to secure your seat!.
Show Details
.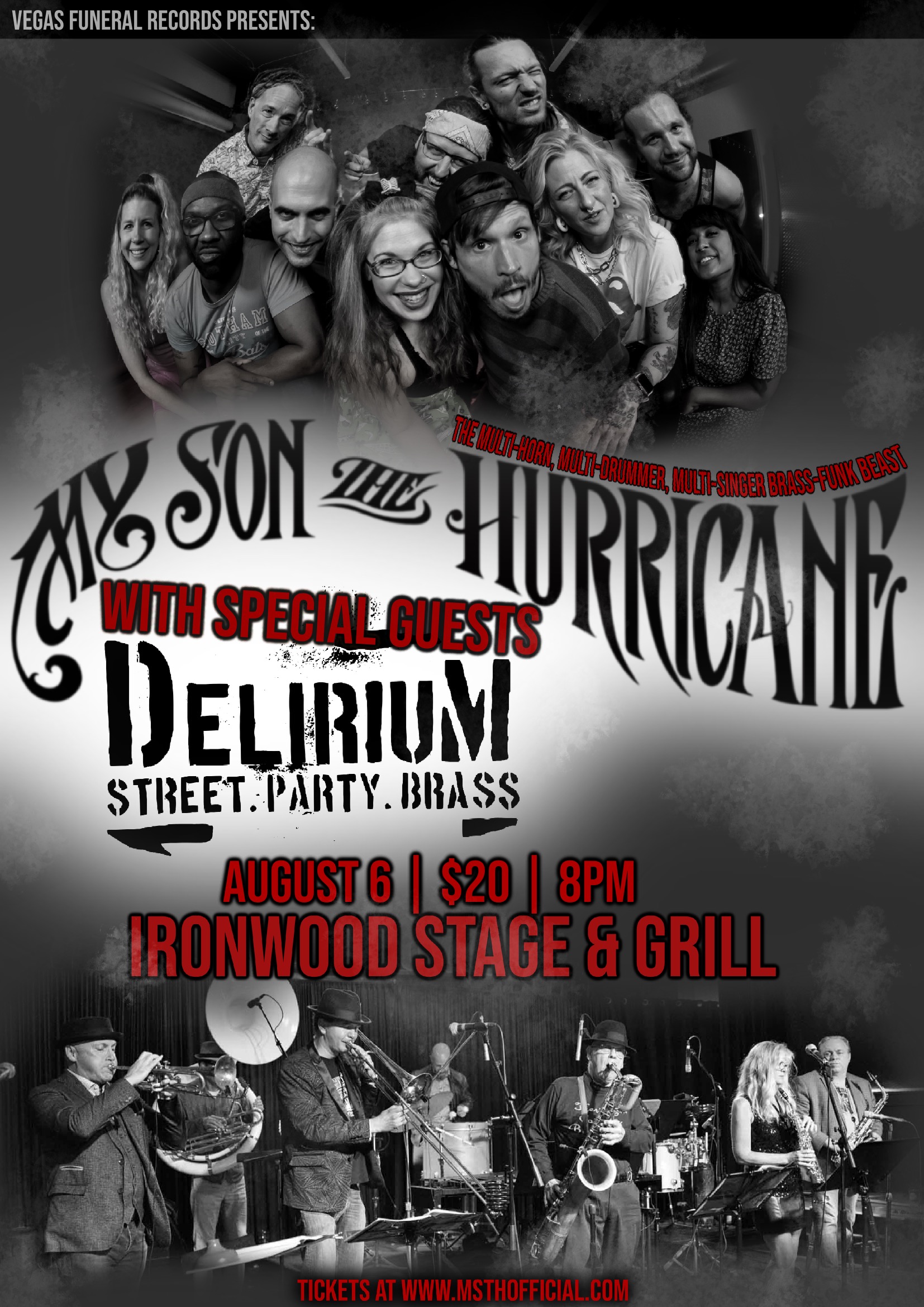 08/01/22 23:25
We set up a
Merch Store!
Who will be the first to order a t-shirt, a mug, or a toque?