Photo and Video from the River
30/07/14 18:44
Last night we waded across treacherous waters near Prince's Island, then played along with our recording of
Believe In You
, which was on infinite loop on the amp. Meanwhile,
Stephen
shot video from the Peace Bridge. We gathered quite a crowd on the bridge and on the shore! When we couldn't stand Believe In You anymore, we had an audience member stop the iPod, then we played Sweet Dreams and Thrift Shop from our little island stage. Stephen captured Sweet Dreams and put it on the
Youtubes
:



After another the treacherous water crossing, we hung out and watched the sun set: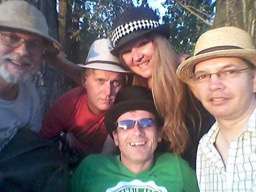 and finished the night on The Yardhouse patio. What a great night! Thank you to the hundreds who stopped, watched, and applauded!

Next up: Aug 2nd Saturday in Inglewood, 4PM outdoor show with Open Streets Calgary.