Calgary, today at 5:30 PM we're going to try out our brand new busking license and The City's brand new busking regulations.
Catch a couple of songs at the Centre Street LRT sometime shortly after 5PM, we'll assemble and warm up there. Then, we'll claim one of the four "
Busk Stops
" on Stephen Avenue, set up the amp for Margo, and
entertain you with some great brass-rock songs.
Ask about our new Mr Doubler to throw out the bass. And Ron has some fun drum tricks up his sleeve.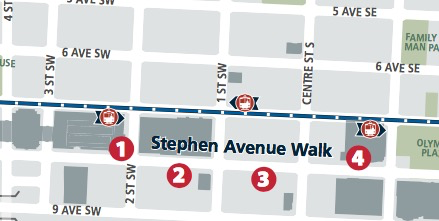 Busy at 5:30PM? No problem! We're invited to
Rocking4Dollars
at
Broken City
. $3 cover! 10 bands, each plays 3 songs. Then we get to spin the wheel for prizes! Loads of fun, and a great way to drink beer and meet people. Starts at 8PM.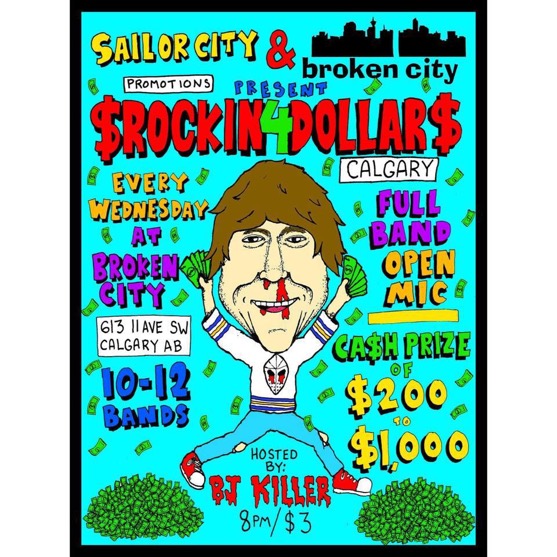 Come out after work, for those few people in downtown Calgary who still have jobs. The rest of you, you have no excuse. Free music.
Delirium fans, we have been asked by our friends in Freak Motif to join in a pre Juno winter parade. It's this Thursday, Feb 11, starting at Olympic Plaza. Noon and 5PM. Watch the
Facebook Event Page
for updates. Delirium songs at noon or 5pm or (probably) both, watch
twitter
for details.
In the spirit of Mardi Gras and the upcoming Juno awards, we are inviting all of YOU to join us in a parade through downtown Calgary! It's happening TWO TIMES: Thurs Feb 11
12-1pm
and
5-6pm

Starting and ending at Olympic Plaza. If you don't find us, follow the noise... Join us, bring your drum, bring your art, wear a costume, come create something weird.

Email frkmtf@gmail.com for more info.
#outloudyyc
#yycwinterparade
#OutloudYYC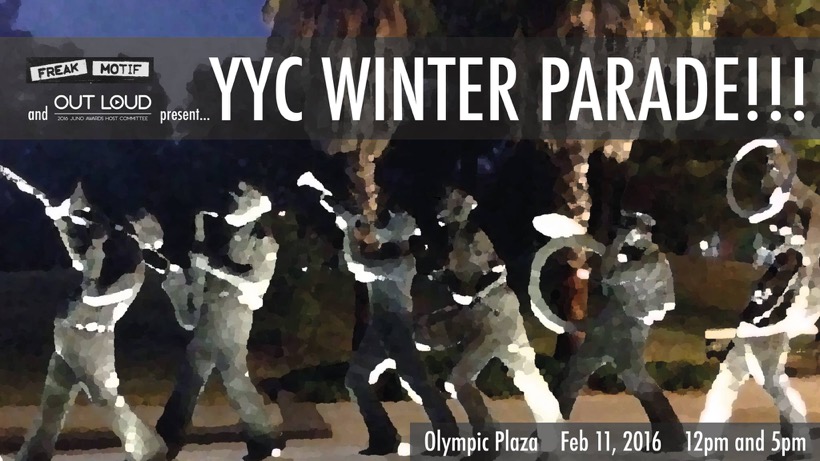 Thursday 27 is Pay What You Can cover charge but we're pleased to offer
100% Free Admission
to anyone who records a video of an entire song and then sends it to us using Dropbox or whatever system we'll figure out later. We should have that smokey beautiful orange light as the sun sets on the band.... dreamy!
Continue reading...
Ladies and Gentlemen, on August 27 we will be performing at ContainR at the Music and Market Square series. This is Outdoor Urban Friendly Music, ideally suited to Delirium.
Get It Funk
will be joining us. Show is 6PM or so to 8:30 PM.
John from Delirium is helping to organize
the series
. Many Thursdays this summer feature different music genres, and people are coming out with their family, their kids, their parents, their sweetie, their dog, and/or their dancing shoes. On August 27 come out and catch Brass and Funk.
Bring cash, it's pay-what-you-can. (Put small bills in one easily accessible pocket, and throw a few extra $20s or $50s in a secret pocket in case you have the best time of your life. If you're having a hard time making rent this month, just bring your smile.)
We have some new tunes that you will love!
Facebook Event Page

News: tonight's planned show at ContainR with our friends FreakMotif and Danielle French
has been postponed to next week
July 22 because of rain.
Throw back Thursday to last week when it was hot and sunny. We recorded
last weeks island show
! With an iPhone and a fancy stereo mic.
It's here on Soundcloud. Please have a listen by pushing the orange triangle button below and give us feedback.
Send us any photos or videos you took please!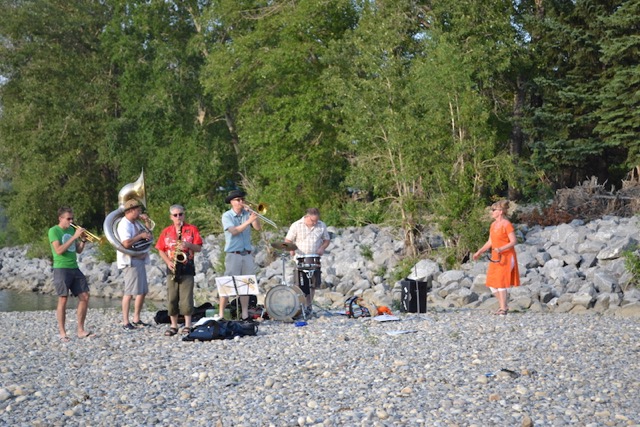 Tonight, 7:30 PM, we're going to take over this little island by the Peace Bridge and play some music. Hope to see you there! It's going to be a beautiful night. Check the
Facebook Event page
or
Twitter
for last minute info.
July 18 UPDATE:
The show was recorded with an iPhone and a fancy stereo mic, and it is on Soundcloud: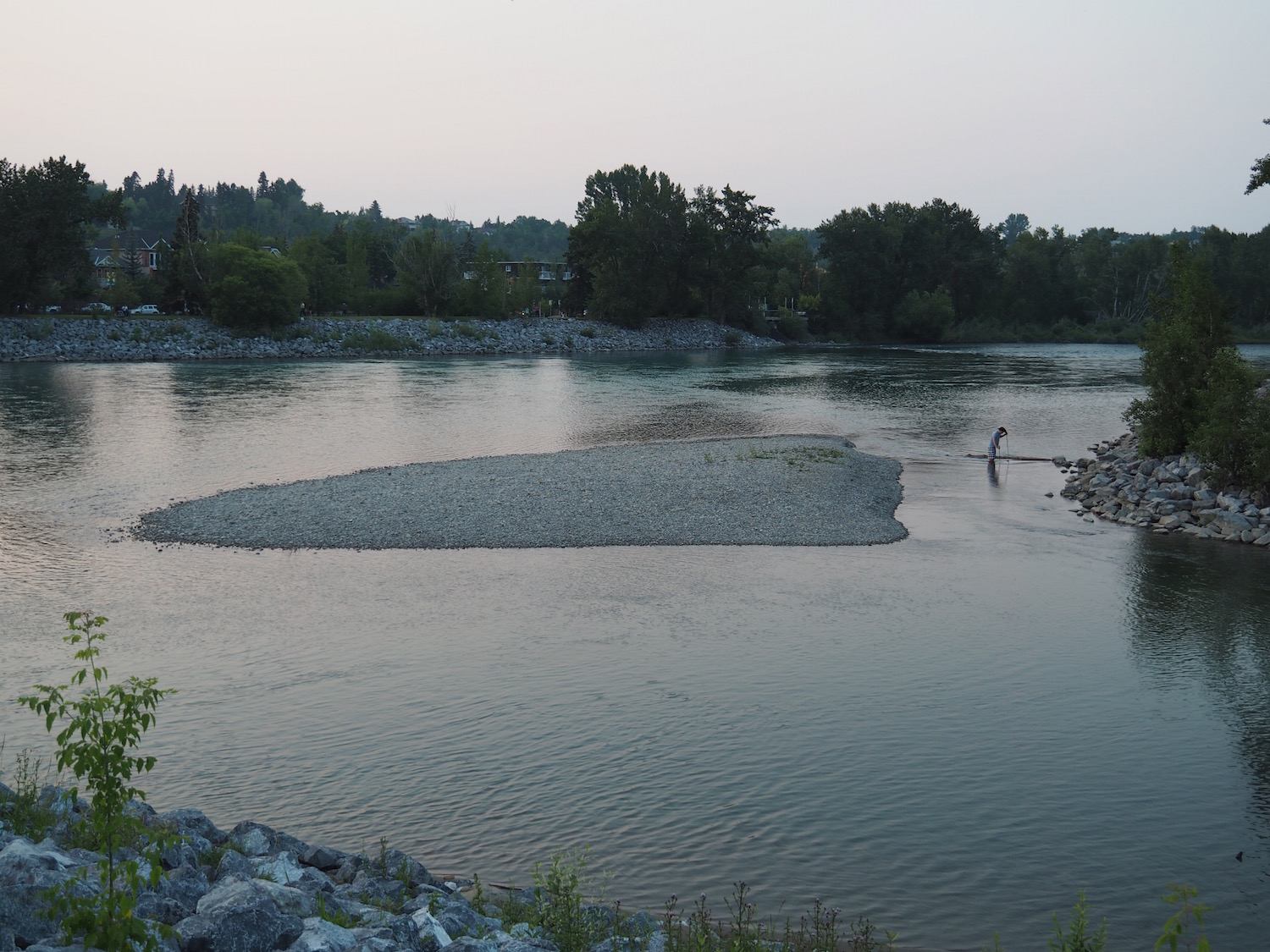 2015/06/30 16:12
Canada Day July 1 we are at corner of 3rd Ave SE and 1 St SE once again! Thank you to the Chinatown Merchants for having us. We have sousaphone!
Come downtown early and catch the other bands and events. We are on before 5:30 PM. Catch the brass, then watch the fireworks.
Come listen and get a free sticker and some promo postcards.

People, we're planning a show on Sunday for an hour at The Peace Bridge. You know, the place in our videos. After 3PM.
Watch comments below for last minute info and
twitter
for timing.
ALSO
The Heavyweights
are coming to town! June 19.
Buy tickets
. Great brass band from Toronto.
Thanks to
Csaba Toth Abony
for taking this nice picture of us on Monday:
We're planning on Busking on June 9. After work, Peace Bridge. Put it in your calendar please! Meanwhile we'll be mixing, rehearsing, recording.
Drummer Ron is playing in The Great American Trailer Park Musical from
Cappuccino Musical Theatre
running until June 6.
We're proud to announce we'll be supporting the
Tweed Ride
on Monday the 18th. The forecast is good, come out! We're playing at the registration desk before the ride starts (after 2PM and before 3PM), and we'll see you at the
Oak Tree Tavern
at the end.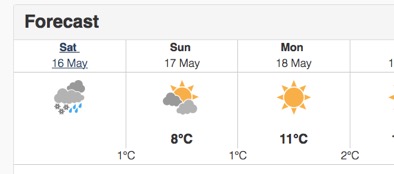 The Tweed Ride supports Bicycles for Humanity, who send used bikes to developing countries. If you are going to ride, you are encouraged to
register in advance.
Please bring extra cash for the band, it will show your support for the music, we'll collect it and pass 100% of it on to
Bicycles For Humanity
.